After 37 years, the actress of 'Ram Teri Ganga Maili' looks like this, the first look of the comeback project came in front
'Ram Teri Ganga Maili' actress Mandakini returns to the screen with a music video. He has shared the first-look poster of the song, in which people are praising him fiercely after seeing his beauty. 
The 1985 film 'Ram Teri Ganga Maili' fame Mandakini is returning to the screen after almost 26 years. She has shared the first look poster of her comeback project 'Maa Aur Maa' on social media, on which it is written, 'Mandakini is back'. The actress wrote in the caption of the poster, "Stay tuned! Coming soon." In the poster of the music video, Mandakini can be seen with her son Rabbil Thakur.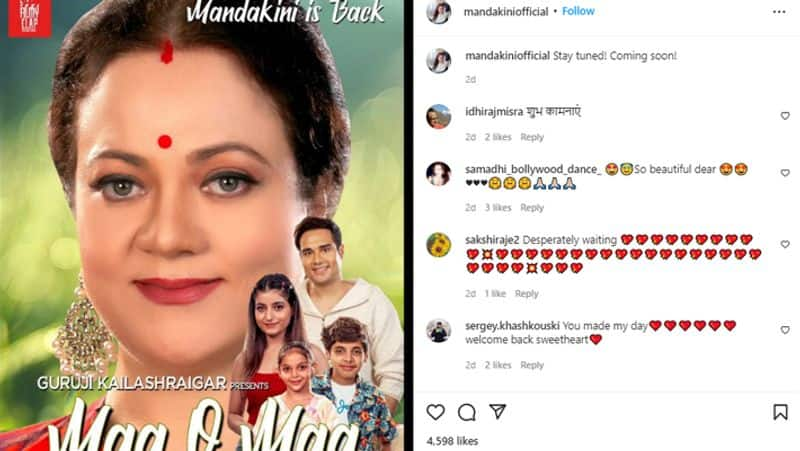 Mandakini fans went crazy after seeing the poster
Sharing another poster, Mandakini wrote, "Comment your feedback on the poster. Would love to know." Social media users are praising the poster. For example, a user has written, "Welcome back my icon." Another user wrote, "Very beautiful." One user wrote, "Very beautiful. I can't wait to see you again on screen." One user commented, "You are very beautiful Mandakini ji. Loved the poster." One user wrote, "Ma'am I missed you for many years." One user commented, "You are still maintaining your glorious face. This is your mother's gift. Every Indian will watch this mother movie just because of your face."
When Mandakini talked about comeback
Some time ago in a conversation, Mandakini told me about her comeback. She had said, "I am extremely happy to be associated with director Sajan Agarwal ji. I have known him for a long time. But we are finally working together. 'Maa O Maa' is a very beautiful song and I fell in love with it instantly. Gaya. The most beautiful part of this song is that my son is playing the lead role in it."
The last film of 'Mandakini' came in 1996
Mandakini's real name is Yasmin Joseph. Born on 30 July 1963 in Meerut, Uttar Pradesh, Yasmeen was given the name Mandakini by Raj Kapoor when he gave her the first film as an actress, 'Ram Teri Ganga Maili'. Mandakini's character was very much discussed in this film with Rajiv Kapoor. Mandakini later acted in films like 'Aag Aur Shoal', 'Jeete Hai Shaan Se', 'Jung Baaz', 'Sheshnag' and 'Dushman'. She was last seen in the 1996 film 'Jordaar'. She married Dr. Kagair in 1990 and she is the mother of two children.